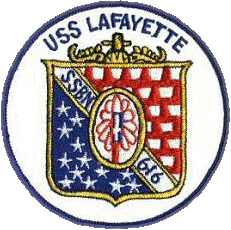 USS Lafayette SSBN 616

Chaplain's Page






If you know of any Lafayette shipmate on Sick Call, departed on Eternal Patrol, 

or just in need of prayer, please contact the Association Chaplin:      

The Submarine Verses are:


Eternal Father, strong to save,

Who's arm has bound the restless wave.

Who bids the mighty ocean deep,

It's own appointed limits keep.

Dear Lord, we lift our prayer to Thee

For those in peril on the sea.

Lord God, our power ever more,

Whose arm doth reach the ocean floor,

Dive with our men beneath the sea;

Traverse the depths protectively.

O hear us when we pray and keep,

Them safe from peril in the deep.

Lord, guard and guide the men who man

The submarines that guard our land.

Be with them always night and day,

In quiet depths or roaring spray.

O hear us when we cry to Thee,

For those in peril on the sea.

Bless those who serve beneath the deep,

Through lonely hours their vigil keep.

May peace their mission ever be,

Protect each one, we ask of Thee.

Bless those at home who wait and pray

For their return by night and day.
Updated: 6/6/2017



John Fornicola

Chaplain

423-310-3331

jfornicola#comcast.net

The Original Words are:

Verse 1:    Eternal Father, strong to save,



Whose arm hath bound the restless wave, 


Who bidd'st the mighty ocean deep


Its own appointed limits keep;


Oh, hear us when we cry to Thee,


For those in peril on the sea! 
Verse 2:    O Christ! Whose voice the waters heard



And hushed their raging at Thy word,


Who walked'st on the foaming deep,


And calm amidst its rage didst sleep;


Oh, hear us when we cry to Thee,


For those in peril on the sea!
Verse 3:    Most Holy Spirit! Who didst brood



Upon the chaos dark and rude,


And bid its angry tumult cease,


And give, for wild confusion, peace;


Oh, hear us when we cry to Thee,


For those in peril on the sea! 
Verse 4:    O Trinity of love and power!



Our brethren shield in danger's hour; 


From rock and tempest, fire and foe, 


Protect them wheresoe'er they go;


Thus evermore shall rise to Thee


Glad hymns of praise from land and sea.
Navy Hymn

The "Navy Hymn" is Eternal Father, Strong to Save

The original words were written as a poem in 1860 by William Whiting of Winchester, England, for a student who was about to sail for the United States. The melody, published in 1861, was composed by fellow Englishman, Rev. John Bacchus Dykes, an Episcopalian clergyman. 

The hymn, found in most hymnals, is known as the "Navy hymn" because it is sung at the U.S. Naval Academy in Annapolis, Maryland. It is also sung on ships of the Royal Navy (U.K.) and has been translated into French.

Eternal Father was the favorite hymn of President Franklin Delano Roosevelt and was sung at his funeral in Hyde Park, New York, in April 1945. It was also played by the Navy Band in 1963 as President John F. Kennedy's body was carried up the steps of the U.S. Capitol to lie in state. Roosevelt had served as Secretary of the Navy and Kennedy was a PT boat commander in World War II.

The Submariner's Prayer

Almighty, Everlasting God, and the Protector of all those who put their trust in Thee: hear our prayers in behalf of Thy servants who sail their vessels beneath the seas.

We beseech Thee to keep in Thy sustaining care all who are in submarines, that they may be delivered from the hidden dangers of the deep.

Grant them courage, and a devotion to fulfill their duties, that they may better serve Thee and their native land.

Though acquainted with the depths of the ocean, deliver them from the depths of despair and the dark hours of the absence of friendliness and grant them a good ship's spirit.

Bless all their kindred and loved ones from whom they are separated.

When they surface their ships, may they praise Thee for Thou art there as well as in the deep?

Fill them with Thy Spirit that they may be sure in their reckonings, unwavering in duty, high in purpose, and upholding the honor of their nation.

Amen

Please submit any request to Chaplain John Fornicola

Monthly Moments for Meditation

June 2017

Father's Day is June the 18th this year. It is always a special day. It's a time to make sure our dads know they're appreciated – to let them know how important they really are to us. It's also a time to thank our sons and daughters for loving and honoring us, and to let them know how much we love them. Finally, if they are no longer with us, it's a time to remember the good times we had together!

I had a good relationship with my father. He worked hard, played sports with us occasionally, attended my events, and frequently told me he loved me. There were things he did that I didn't like, and how he treated my mother was one of them. He was mostly proud of the things I did, especially when I joined the Navy (he was a WWII Navy veteran), went to college, and accomplished thing professionally. He died shortly after retiring. Early on in my life, I learned to forgive him of the things I didn't like and for how he treated my mother. I loved them both, and I have good memories! 

My relationship with my son was pretty good until his teenage years. Like my father, I went to his events, played sports with him and told him often that I loved him. He did some things I didn't like, and I did some things he didn't like too. There were a few years when we didn't talk. My wife encouraged me to call him, he and I forgave each other, and we moved on! We had a few years during which we created some more good memories before he passed away. 

I got some good advice about who is responsible for someone's behavior after they become adults from a Pastor in New Jersey. He showed me that in the Biblical books of First and Second Samuel, Chronicles and Kings that: a king who was evil had a son who was evil, a king who was evil had a son who was good, a king who was good had a son who was evil, and a king who was good had a son who was good. As we grow into manhood and go out on our own, we choose whether or not to be like our fathers. Likewise, when our children reach adulthood, they will choose whether or not to be like us. It is not our fault how they turn out, they are reasonable for their own chooses!

In the Biblical book of Second Samuel, Chapter 12 we are told about how the first child born to King David and Bathsheba was sickly and died 7 days after birth. While the baby was still alive, King David fasted and prayed for him. But after the child died, the people around him were surprised that he stopped fasting and praying for the child. In verse 23 of chapter 12, King David says the following, "But now he is dead, wherefore should I fast? Can I bring him back again? I shall go to him, but he shall not return to me." I believe my son is in Heaven, and when I go on Eternal Patrol I will see him there!

So, this Father's Day, I encourage us to forgive our fathers for their shortcomings in raising us and to apologize to our children for our shortcomings in raising them; keep hold of the good memories and love them; we are not responsible for how our children turn out, but we responsible for ourselves; and, raise our children to know the Lord and, if they should die before we do, we will be able to go to them!

Let us pray: Lord, bless the fathers and grandfathers among us: some of them delight in their fathering; for others it's hard, perhaps very hard, and they're wounded. Where appropriate hear our confession of sin, of failure, of ignorance. Help us – all of us – to forgive our own fathers for their faults and failings and to apologize to our children for ours. But Lord, we are not responsible for them, but for ourselves. Help these dads to love their children and their wives. May they be good leaders in their homes, leading their children to a living faith in the living God. And when that Great Day comes and we stand before you, our king and our judge, may we hear you say, 'Well done, good and faithful father". 

May you have the best Father's Day this year and may God bless you all,

Chaplain John