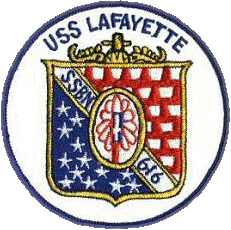 USS Lafayette SSBN 616

"Head of the Class"







Updated: 7/30/2022

The USS Lafayette Association was conceived because there was no website for the Lafayette, by Herb Murphy & Bill Fraser on the back porch of Herb's home in Gamaliel, AR on Aug 27, 2004.  When Bill started this website on Nov 27, 2004, he had contact information for less than 10 shipmates, so he started searching to find shipmates.  Bill and Herb organized the Inaugural Reunion in Tunica, MS, without any assistance.  Then only 6 months and 4 days after the website was started the Reunion was held from May 31 to Jun 3, 2005 and there were over 120 in attendance, including both of the commissioning crew Commanding Officers, Patrick Hannifin and James Strong.  A business meeting was conducted where the Association was formed, By Laws were approved and Officers elected on June 3rd, 2005.

Donations to USS Lafayette Association are not 

tax-deductible for federal income tax purposes.

We have been asked by many of the other 

41 for Freedom Boat Associations to request 

all shipmates to login to their websites and 

register.  Click on this button for the links to 

their websites:  

Please email the webmaster (bottom button on left) if you find a bad link.


Copyright (c) 2004-2016

all rights reserved

USS Lafayette Association


Welcome to your USS Lafayette Association

The Lafayette Association is a fraternal organization for United States Navy Submariners who served aboard the nuclear powered fleet ballistic missile submarine USS Lafayette (SSBN-616). The primary purpose of the association is to provide an opportunity for the members to enjoy camaraderie with former shipmates and other submariners with a common background of service aboard the Lafayette, and to provide the opportunity for members to actively participate in reunions and other activities of the association.  

Shipmates Identified: 289 Officers & 2141 Crew

including 309 on Eternal Patrol for a Total of 2430

The Association annual dues are $10.00 and are collected in two year increments of $20. Checks made payable to the USS Lafayette Association can be mailed to the Treasurer at: 

 Juan Castillo 1373 East Academy Avenue Tulare, Ca 93274

Paypal payment option is not available at this time.

If you have questions you may email  Juan Castillo at:

Juancjcastle@yahoo.com